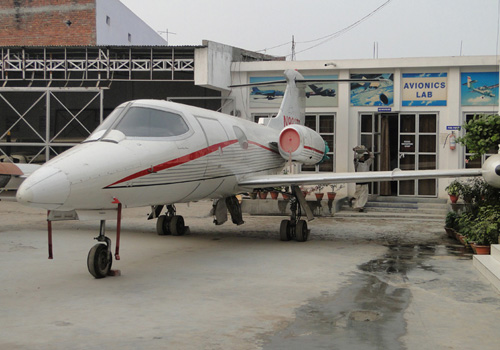 Institute Of Aircraft Maintenance Engineering - Gorakhpur
Approved by DGCA, Ministry Of Civil Aviation, Govt. Of India For AME Courses
Governed by: Educational & Social Welfare Society, Gorakhpur
IAME has the unique distinction of being the first A.M.E. Training Institute of eastern U.P. A professional management with broad mindsets, focused objectives practical approaches, defined goals & inspirational ideologies shall propel the facility towards many firsts & establish multiple bench marks. The Institute will dully impact on various social initiatives, integration human values & modern technologies landing a positive shift in Aeronautics & Aircraft Maintenance Engineering in our country.
Facilities & Infrastructure
IAME is all set to claim the mantle of the best AME training campus in the country backed by experienced & expertise of a qualified academic/technical structure.
A well furnished Institute building covering in an acre land. IAME possesses it's own maintenance hanger to accommodate its Aircraft Cessna - 152 (U.S.A.) & Learjet - 24B with its full range of maintenance facilities & maintenance practices.
Institute is equipped with ultramodern Avionics Lab with advance training aid & a range of various types of measuring instruments, meters including oscilloscope & signal generators including a range of airborn communication & navigation equipments, radars, autopilot & various electronic components devices & aircraft system components.
A basic workshop with different kinds of aircraft tools, general tools & a tool store.
A Machine shop with centre lathe, Powered drill, grinder with precision measuring & special tools.
A well equipped engine workshop with two aircraft Piston Engines & three Jet engines & various components in dismantled condition & airframe components for detail studies.
A well equipped system components workshop with aircraft components & relevant airframe for complete exposure to the students for their better knowledge.
A welding shop with advance welding machines for airframe structure fabrication practices.
A NDT & Re-enforced plastic shop.
A smithy shop for better understanding of properties of materials & metallurgy.
A audio-visual hall with LCD/CBT advance DVD/CD's & projector, with latest slides to equip the students with strong foundation of subject.
A quality control system at every level & aspects of study & practical, is observed, so that students can develop the quality awareness in maintenance practices.
Separate battery charging room for lead acid and nickel cadmium.
A library with wide range of books relevant to the aircraft engineering and technology as prescribed by the DGCA, Ministry of civil aviation, Govt. of India and various aerospace journals concerned with aviation and aeronautics.